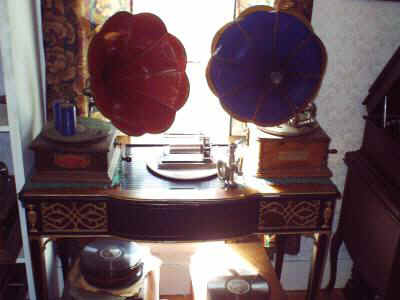 Victrola Repair Service
206 Cliff St.
St. Johnsbury, VT
05819
Phone: 800-239-4188





Mainsprings home page for pricing and info
New Mainsprings: If your motor doesn't wind up, more than likely your mainspring(s) are broke. Usually one spring breaks at a time but it is possible that all springs are broke. When servicing a broken spring, the spring is removed and the inside of the canister is cleaned. We install the new spring(s) with fresh grease and test the springs to make sure everything is hooked properly. It's not recommended to try removing the spring barrels on your own. If you're uncopfortable with handling the motor or have no experience, it's highly recommended to send the entire motor to us. While we have the motor, we could also clean it for you at the cost quoted in the Motor Cleaning section above. We could also test everything to make sure your machine is playing at it's potential. If you have any questions about this service or any of our services, please ask by phone (800-239-4188) or by email victrola@victrolarepairservice.com.
Some of the different mainspring sizes we offer
Special Offer
Mainspring problems are the #1 reason that players come in for repairs. The old spring steel has weakened over time or outright broken from metal fatigue or being over wound. We can correct this problem with new springs that will last for many generations to come with proper winding.





Hours: 9-6 M-F Eastern time
The best way to proceed with a mainspring problem is to call us on our 800 number for information and instructions as each model varies quite a bit and have different styles and number of springs. We would be happy to instruct you on how to proceed with the repairs.

We have mainsprings for all makes and models of windup phonographs, Victrola, Brunswick, Edison, Pathe and many many others..any wind up phonograph!
We accept Visa, MC or Discover, checks or money orders.